Brief Introduction
China Sigma has developed real estate projects spanning commercial, tourism, retirement and high-end residential uses among others. These investments are present nationwide, including in Beijing, Shanghai, Sanya (Hainan Province), Anji (Zhejiang Province) and Xuanhua (Hebei Province).
Beijing Sigma Centre (Beijing)
Beijing Sigma Centre consists of the Sigma Building and the Sigma Apartment with a total construction area of 100,000 square metres, located in Zhongguancun, Beijing. The Sigma Building has a total floorage of 55,000 square metres and was completed in 1998. The Building has had a 100% occupancy rate for 20 years. Companies tenanting the Building are all brands well-known both internationally and domestically. Sigma Apartment was completed and ready for occupancy in 1997, with a floorspace of 50,000 square metres. All 308 luxury apartments have been sold.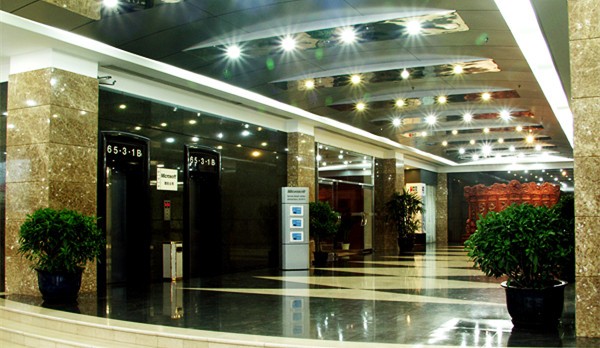 Beijing Oriental Sun City
Beijing Oriental Sun City covers 2,340,000 square metres on the banks of the Chaobai River in Shunyi District, Beijing, with a total resident population of 15,000. The development comprises a total constructed land of 830,000 square metres, including 750,000 square metres of residential areas and 60,000 square metres of public facilities. Construction began in 2002, and was completed in 2011.
Oriental Sun City is one of the largest senior living communities that have ever been built in China, and with more than 95% of the residents being middle-aged or elderly, is proud to be a "Leader in Retirement Living". The community has played an exemplary role in developing Chinese senior living real estate, and boasts an insurance designated hospital and 2,000 square metres of supporting public facilities, including a fitness centre, commercial high streets, a hotel resort and the Oriental Sun City Art Centre, among other amenities.
At present, the project is almost fully sold out. A very small number of villas in Peach Blossom Gardens are still available; Consultation Hotline: +8610-89431288.Two furnished hotel-style serviced apartments are available for long-term rental; Consultation Hotline: +8610-89431266.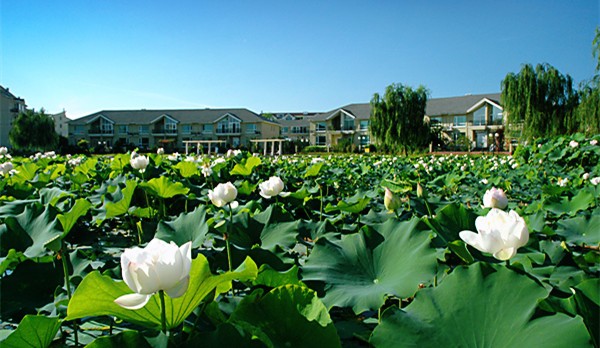 Xuanfu City One (Zhangjiakou, Hebei)
Xuanfu City One • Huangchen is located at the heart of the Xuanhua district in Zhangjiakou, the city of thousand-year cultural heritage and co-host for the Winter Olympic Games of 2022. The intercity railway connects Zhangjiakou directly to Beijing, enabling easy access to the capital within 1 hour. Covering 42 hectares with a total floor area of 600,000 square meters, it is the largest low-density, high-quality-of-life residential community in Xuanhua district. The construction of the project started in 2010, with approximately 250,000 square metres completed and ready for occupancy. The second phase of Xuanfu City One extends on the first phase by integrating various types of residences including mid-rise residential, four-storey villas and three-storey large apartments, all in the style of modern Chinese architecture featuring a landscape that combines regal gardens and the aesthetics of Jiangnan district. The community provides excellent educational resources and living facilities, making it the top choice for people who are looking for a higher-quality lifestyle; Consultation hotline: +86-0313-5085555/5095555. For further information, please scan the QR code below to follow us.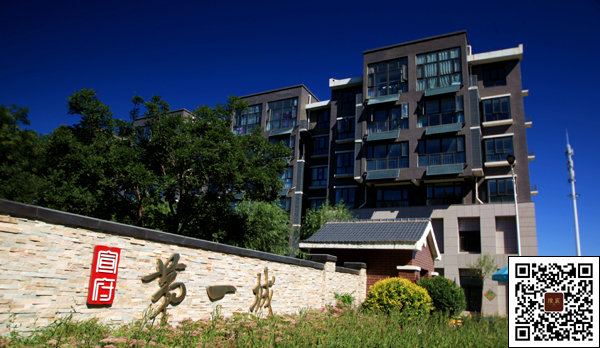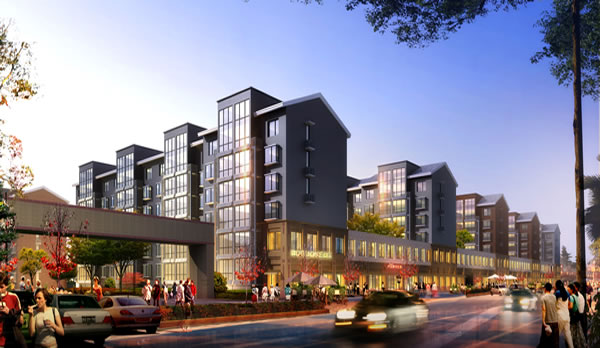 Pheonix International Huanshan Residential Community (Anji, Zhejiang)
Pheonix International Huanshan Residential Community is located in Anji, known as China's Bamboo Village, the most beautiful village in China. At only 30 minutes from Hangzhou, the location is close to Hello Kitty Theme Park and to the Anji Exit of Hangzhou-Changsha Expressway.
The resort and living community has its own 18-hole golf course and the first JW Marriott Hotel ever developed in a county-level city in China. The residential area of the community covers over 67 hectares and a built area of 260,000 square metres. Neighbourhoods in the community include the Fern Garden, the Lotus Garden and the Honoured Garden and feature detached hillside family homes, townhouses and luxury apartments in a variety of French, English and Italian architectural styles. After the Fern Garden and the Lotus Garden were successively sold out and occupied, the Honoured Garden has introduced a new range of accessible luxury townhouses with mountain views. The Honoured Garden townhouses feature a simple French architectural style with light and airy aesthetics with innovative use of glass fencing. Townhouses are designed with full suits and naturally lit bathrooms to meet residents' needs for comfort and luxury leisure. Whether one is gardening, reading, drinking tea or simply enjoying the sun, the large open rooms and multiple terraces will provide the perfect idyllic setting. For Consultation, please call +86-0572-5088888. For further information, Please use TikTok to scan the QR code below to follow us.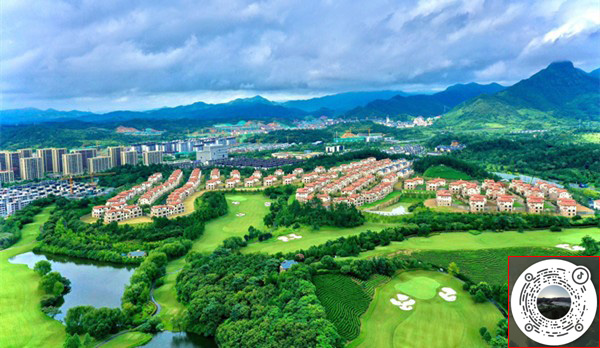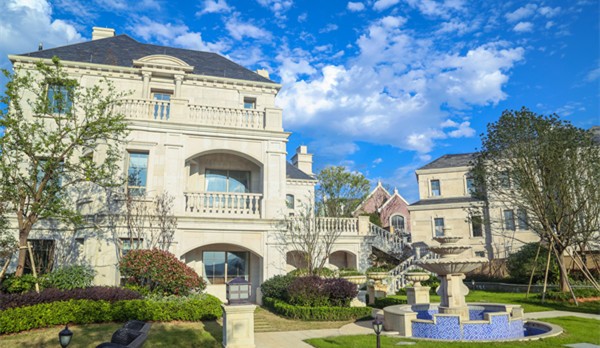 Oriental Sun City (Sanya, Hainan)
Located in the Binglanghe Culture Tourism Area in Tianya District in Sanya City, Sanya Oriental Sun City provides easy access to transport options: G98 Roundabout Expressway (1.6 km to the south), Sanya High-speed Railway Station (4.9 km to the east), and Sanya Phoenix Airport (5.8 km to the west). Positioned in between the two major transportation hubs of Sanya (Sanya High-speed Railway Station and Sanya Phoenix Airport), Oriental Sun City is at a straight-line distance of 6 km from Sanya Bay to the south, allowing convenient visit to this popular vacation destination.
The currently being developed "Mountain and River Court" cluster of Sanya Oriental Sun City covers an area of 8 hectares, with a total construction area of 106,000 square metres, a plot ratio of only 1.2, and a greening rate of 40%. "Mountain and River Court" is located on the south of Lizhiling Mountain, east of Qian Mountain, west of Sanya River and north of Sanya Bay, where is an auspicious place to live. The rolling terrain and hillside buildings of the project create a harmonious architectural complex landscape. "Mountain and River Court" cluster consists of 17 high-rise buildings with 8 to 10 stories, and 3 town houses with 3 stories by 10 different types of rooms. These bright and airy rooms are well-equipped and fully-furnished. Lifts are provided for all units. Sanya Oriental Sun City is embodied in the concept of poetic dwelling of "living towards mountains, living for beauty" by taking advantages of the gifts given by natural landscapes. In an echo of Sanya Headquarters Economy and Central Business District (CBD), it will create a modern unique new living center for travelers and residents of all ages in suburbs of the free trade port. "Mountain and River Court", lying near the foot of the mountain and by the river, let the life return to the mountain and the river of the great nature. Consultation hotline: +86-898-88369988.For further information, please scan the QR code below to follow us.